Photo Contest "Variety of Hearts, Teachers, Creators"
Submitted by mod on Tue, 2018-10-09 18:18
From http://contestwar.com/contest/14271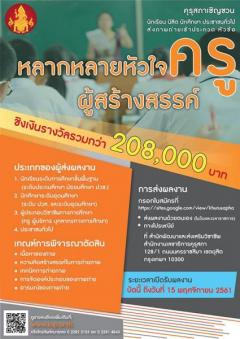 Photo Contest "Variety of Hearts, Teachers, Creators"
The teachers invite students, students and the general public. Photo Contest "Variety of Hearts Teachers" won the prize worth a total of 208,000 baht with a plaque. And honor cards
Submitter
Basic Education (Primary and Secondary Education and Vocational Certificate)
Higher Education (Diploma and Higher Education)
The educational professionals are teachers, school administrators. Educational Administration And supervisors.
Public
Judgment Criteria
Image content
Creativity in photography
Photography Techniques
Composition of photos
The mood of the picture
Submission process
Interested candidates can apply. sites.google.com/view/khurusapha
From now on - November 15, 2018.
By submitting the work manually. Or by mail.
Professional Development and Promotion Office The Secretariat of the Teachers Council of Thailand
128/1 Nakornratchasima Road, Dusit, Bangkok, Thailand 10300
Corner bracket "Send photos to contest" by holding the stamp of origin is important.
Contact
Tel. 0 2282 3153 and 0 2281 4843.
Contest Type:
Photo Contest
Eligibility: Student General public
Total Prize Money:
208,000 Baht
Contest's URL:
Description
Downloads:
register
File attachments:
Description
Deadline:
08 Oct 2018 10:00 to 15 Nov 2018 16:00
Published by:
Contestwar