Krung Thai Arts Competition No.4
From http://contestwar.com/contest/14277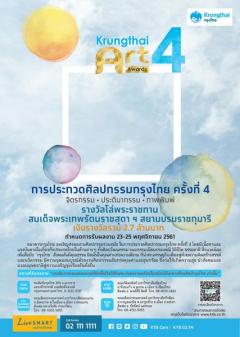 Submitted by mod on Mon, 2018-10-15 12:51
Krung Thai Arts Competition No.4
Krung Thai Bank PCL Invite artists across the country. Krung Thai Arts Competition 4th time to be presented to Her Royal Highness Princess Maha Chakri Sirindhorn. With the total prize money of 2,700,000 baht and the honor card.
Style and style
Artists ("Artists") can present and express themselves in independent works of art, including concepts, styles, and techniques of contemporary contemporary art.
Contest level
Wide open for individuals.
Type of work
Image Size (not including frame or platform) Image not more than 1.80 meters
Image Size (the size does not include frame or platform), each side does not exceed 1.80 meters.
Image Size (not including frame or platform size), not more than 1.20 meters.
Application form with application.
Artists must submit their works with the application. Or delegate authority to send. During 23-25 November 2018 at 9 am - 5 pm
Where to get contact
Krung Thai Art Gallery Krung Thai Bank Building
Soi Yaowarat 23 B. Samphanthawong Bangkok
Tel. 0-2222-0137
Note: Sculptures and works that need to be installed in a special way or must be assembled together. Only applications can be submitted at Krung Thai Art Gallery.
Northern Faculty of Fine Arts Chiang Mai University
Huay Kaew Rd., Suthep, Muang, Chiang Mai
Contact Pongsiri Kaddee Tel. 08-4019-2483.
The North East Faculty of Arts Khonkaen University
Mittraphap Rd., Muang, Khon Kaen
Contact Asst. Prof. Thawatchai Karnkwian Tel. 08-5002-5455
Southern Faculty of Fine Arts Thaksin University
Kanchanavichit Rd., Chang Kham Chang District, Songkhla
Contact Chaiyarat Sangthong Tel. 08-4193-9055
Contest Type:
Fine Art Contest
Painting Contest
art
Eligibility: The public
Total Prize Money:
2,700,000 Baht
Contest's URL:
Description
Tags:
Krung Thai Arts Festival
File attachments:
Description
Deadline:
23 Nov 2018 09:00 to 25 Nov 2018 17:00
Published by:
Contestwar