"MOTOR EXPO-CANON PHOTO CONTEST 2018" Photo Contest "Emotion"
Submitted by mod on Tue, 2018-10-09 11:43
From http://contestwar.com/contest/14269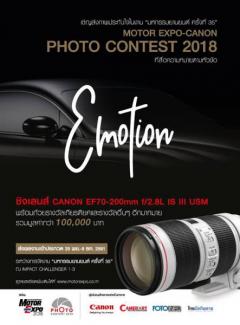 "MOTOR EXPO-CANON PHOTO CONTEST 2018" Photo Contest "Emotion"
MOTOR EXPO Join the photo contest "MOTOR EXPO-CANON PHOTO CONTEST 2018", "Emotion" at the 35th Bangkok International Motor Show. Cup of Honor With certificate And many awards.
Terms and Conditions
Just take pictures by topic. With all digital cameras of all brands, the text is impressive enough. And submit entries. Visit the website. www.motorexpo.co.th
Can add more images.
Submitter Original image files must be kept as evidence to confirm with the organizer.
"Prize winners" are those who take pictures. And send photos to the contest in the automotive exhibition.
"Prize Winners" are required to complete. So there is a prize.
"Prize winners" will be contacted back. To win The tax will be deducted and the cost of ownership transfer. And / or products themselves.
"Prize winners" must bring evidence. Identification card to the "organizer"
Universal Media Public Company Limited and Canon Marketing (Thailand) Co., Ltd. are not eligible for this prize.
Prizes may be changed without prior notice.
The referee's decision is final and final.
Schedule
The contest will be held from November 29 to December 9, 2018, no later than 12 noon.
Selection and judgment on December 9, 2018 from 1 pm onwards.
Announcing the results on December 10, 2018 at the Motor Expo and the website www.motorexpo.co.th.
Submission process
Photo by "Emotion" with digital cameras, DSLR and MIRRORLESS all brands.
Submit your entries by contest.
Method 1 submits via website. www.motorexpo.co.th Select the category to submit the contest. Register And write the text that you submit to the contest.
Method 2: Send e-mails with attached image files. (File format is JPG) to photocontest@motorexpo.co.th By writing the picture you submitted the contest. Include your name, address, telephone number, e-mail and other details.
Keep proof of submissions to confirm participation.
Contest Award
award winners Canon EF70-200MM F / 2.8L IS III USM IS LENSED WITH BONUS OF 80,900 BAHT
1st Runner up Trophy of Honor CANON PRINTER PIXMA TS9170 GOLD worth 9,490 baht for 1 prize.
2nd runner up trophy of honor CANON PIXMA TS5070 printer worth 3,900 baht for 1 prize.
POPULAR VOTE Cup of Honor CANON PIXMA TS307 Printer with 1,590 Baht worth of prizes
Certificate of Honor He has won the "Formulas" magazine for 7 months.
Contest Type:
Photo Contest
Eligibility: The public
Contest's URL:
Description
File attachments:
Deadline:
29 Nov 2018 10:00 to 09 Dec 2018
Published by:
Contestwar